Private Label Flip Flops
Posthaste is currently working with a number of the largest footwear factories in Brazil to create private label flip flops for diverse clients around the globe. We can create entirely new product lines as well as handle small projects for parties and other events.We only work with rubber sole flip flops—not foam or plastic—because this is where Brazil has an advantage over other source countries, namely China. Recent consumer trends have suggested that the supple, rubber sole is a key for customer acceptance. The majority of sources use various types of plastic, far inferior to the feel of rubber when you walk on them.
Your project, your way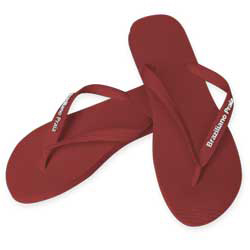 Private label, your brand
We can help our clients launch their own flip flop line. Utilizing high-quality, expanded micro-porous rubber soles as a basis, we coordinate your large scale flip flop project in Brazil.


Customization options
As you can see above, we currently have available a wide variety of colors to choose from including black, white, brown, pink, red, light blue, navy blue, light green, forest green, purple, gray and yellow. Combined with up to 3 color silk screening (minimum 504 pairs) or thermal transfer (minimum 2000 pairs), you can create highly original designs.
Strap tags
For an additional decoration, a strap tag can be afixed to the strap of your sandal. From company logos to initials, we can create surprisingly detailed imagery that increases the visual impact for your footwear. We offer two different styles of strap tag. One features a slight embossed type relief while the other is a high relief that simulates an actual molding on the strap.